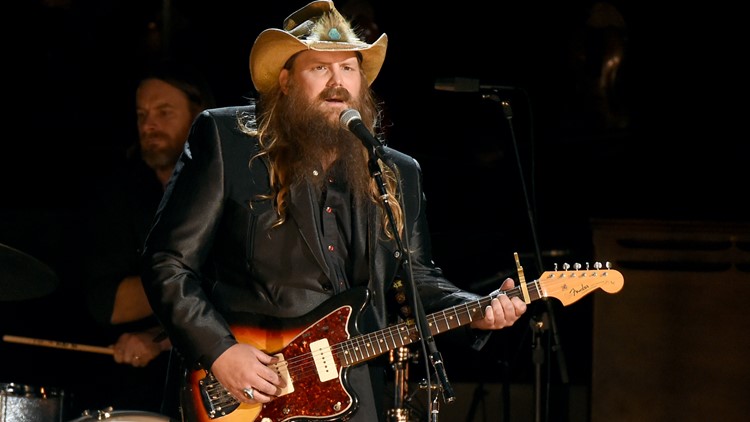 Actor-singer Sheryl Lee Rolfe and Oscar winner Troy Kotsor are also set to perform.
LOS ANGELES — Country music star Chris Stapleton will take the Super Bowl stage next month to sing the national anthem, while R&B legend Babyface will perform "America the Beautiful."
The performance will take place on February 12 at State Farm Stadium in Glendale, Arizona, before the championship matchup and halftime show featuring Rihanna. The performance will air on Fox.
Singer-actress Sheryl Lee Rolfe, who won an Emmy last year, will also perform "Lift Every Voice and Sing." She stars in the hit comedy series "Abbott Elementary," opposite Quetta Bronson.
Oscar winner Troy Kotsor will perform the National Anthem in American Sign Language. He became the second deaf actor to win an Academy Award for his role in the film "CODA". Colin Denny will sign "America the Beautiful" and "Lift Every Voice and Sing" will be signed by Justina Miles.
The U.S. Navy will hold a flyover at State Farm Stadium to commemorate 50 years of flying women in the service.
Jay-Z's Rock Nation Company is producing the halftime show for the fourth year. Jesse Collins returns as an executive producer.
Stapleton, an eight-time Grammy winner, is considered one of the country's most respected and beloved musicians. He took home three Grammys last year and was honored with the Country Music Association's award for Male Vocalist of the Year in 2021.
Babyface, who has won 12 Grammys, has had several hits throughout her career, including "Whip Appeal," "When Can I See You" and "Give U My Heart" with Toni Braxton. He is the co-founder of LaFace Records and has collaborated with many big names including Whitney Houston, Aretha Franklin, Madonna, Mariah Carey, Mary J. Blige, Ella Mae and Patti LaBelle.
Ralph won an Emmy last year as a nominee for the first time at age 66. She has spent decades in the business with a number of iconic roles, from "Dreamgirls" on Broadway in the 1980s to the stepmother of the title character in the 1990s sitcom "Moesha."