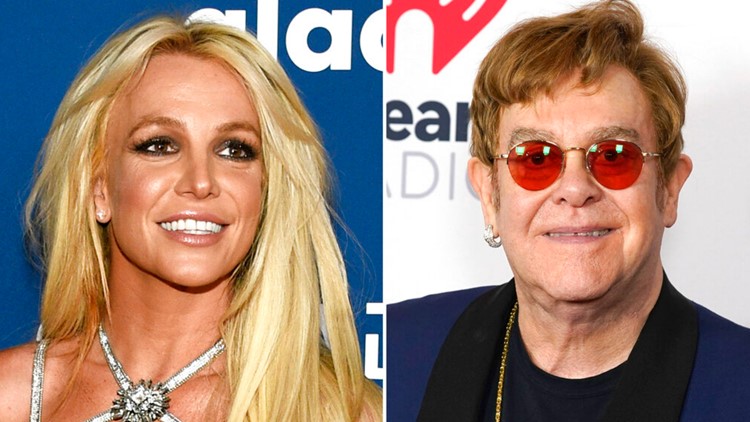 It's Spears' first new music since her 2016 album "Glory" and her first release since the end of her controversial hiatus.
LOS ANGELES — Elton John and Britney Spears have collaborated for the first time, creating a slinky, club-ready single. "hold me close" Which sees pop icons take old sounds and fashion something new.
The funky, piano-driven single uses John's 1971 hit "Tiny Dancer" as its skeleton and incorporates elements of her songs "The One" and "Don't Go Breaking My Heart", both by Spears. The voice is loud and raspy.
"She's truly an icon, one of the greatest pop stars of all time and she sounds amazing on this record. I love her so much and I'm so happy with what we've created together." John said in a statement. In her statement, Spears told John that it was an honor to be asked: "I am so grateful to have had the opportunity to work with you and your legendary mind."
The track was produced by Andrew Watt, who has worked with the likes of Ed Sheeran, Eddie Vedder, Ozzy Osbourne, Justin Bieber, Post Malone and Miley Cyrus.
The song opens with the two stars singing the opening lines of "The One" — "I saw you dancing in the sea / Running fast along the sand / Spirit born of earth and water / Fire from your hands." was." It then segues seamlessly into "Tiny Dancer": "Hold me close, little dancer/Count the headlights on the highway/Lay me in the linen sheets/You've had a busy day today."
The track recalls last year's hit "Cold Heart (PNAU Remix)," which featured John's songs "Dilhan Ko Chumo," "Rocket Man," "Kahan Hai Shoora?" and "Sacrifice" in a dance bop featuring Dua Lipa's vocals.